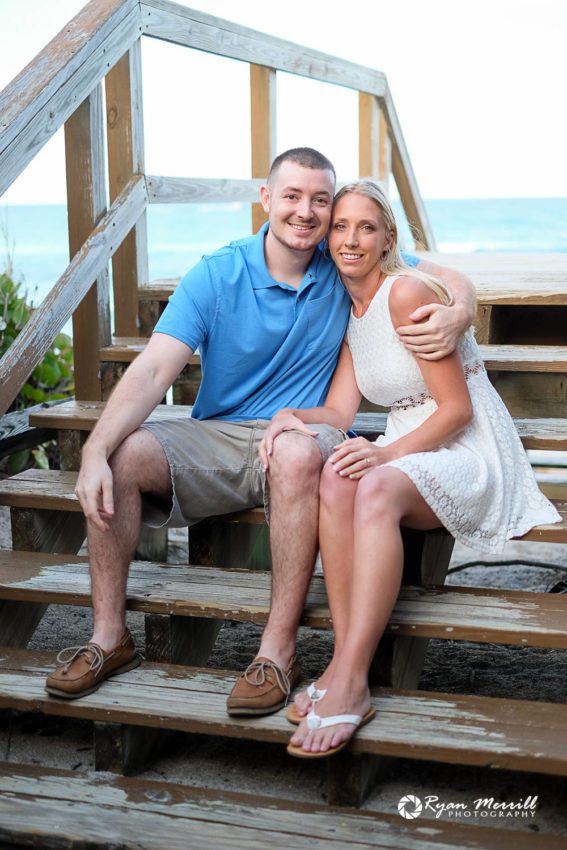 I'm using engagement photos in this post as an example, but really this can be applied to just about any photo shoot that I do. When it comes to photography there are really two main styles that can give you drastically different results: Natural Light & Added or Artificial Light (portable studio lighting). 
The photo above and the photo immediately below this were taken seconds apart with two different cameras. The photo above was shot with natural light while the photo below had an artificial light source, a portable studio light. The difference is subtle in these photos but if you look at the background of each you can see that the second one has more color. In this example I prefer the natural light photo because it goes well with the casual beachy look of the photo.
In the gallery below, the natural light photos are on the left and the artificially lit photos are on the right.
These next few photos are from a recent wedding at the Delray Beach Golf Club. The show a much more dramatic difference between natural & artificial lighting. Again, these photos were taken seconds apart on different cameras.
This example shows the difference more than some of the others. Again, these were taken just seconds apart.
I'm going to end this post with a dramatic sunset because it really shows off what can be done with proper lighting.